Technology of the Future... Today
George Taweh, inventor, and his partner/ co-designer, Tim Sutton created a better way to distribute dialysis solutions to each station in a dialysis clinic. They designed a modular horizontal chase/bumper railing and solutions manifold that will face-mount on the patient station head wall having the valves included in a single manifold per station reducing the amount of fittings to make the system work with either chemical or hot water disinfection. The horizontal bumper railing houses the fluids loop lines in a nice organized tubing management system where the lines can be snapped into place and concealed under the bumper railing.
This allows for not having to use wood or particle board cabinets to create the housing for a typical recessed water box and the solution loop lines. The aesthetically appealing horizontal bumper and manifold takes up less room than the use of the legacy casework and recessed water box and loops system.
The new T Box design allows for adequate space in between the manifold and the drain fixture to allow easy cleaning and sanitizing. The drain fixture also serves as drip catchment below the T Box manifold. The drain fixture also maintains the required air gap for the dialysate discharge drain line from the dialysis machine. This well designed drain fixture has a barrier between the area of dirty drain fluid below and the upper drip catchment area separating this clean environment from the dirty area.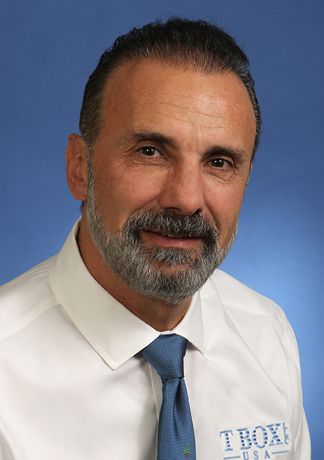 With over 25 years' experience in the medical construction environment as a General Contractor, as well as Project Management and owner representative dialysis providers of the construction of dialysis clinics, George Taweh came up with an idea of how to further simplify and improve the way solutions delivery systems could be installed. He developed a design that was patented in 2020. US Patent No. 10,533,308 issued Jan 14, 2020, Dialysis Wall Box Apparatus and Wall Chase System. This new design is unique and well received in the dialysis communities.
With over 25 years' of experience in the medical construction industry and also working for several of the large dialysis providers as owner representative and construction project management Tim helped George take this patented concept on to actual production of the product. The showroom and warehouse and assembly facility is located close to the KCI airport in his home town of Kansas City MO.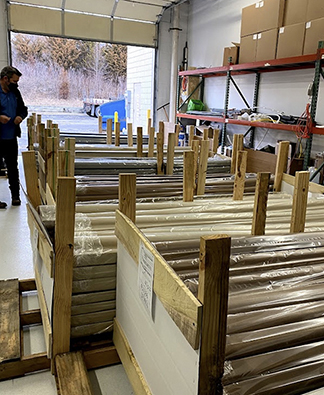 We are located in Kansas City MO very close to the KCI Airport. Our building has a showroom where we have simulated the dialysis patient station environment where we can show our new design and application of the T Box modular system alongside of the legacy style cabinet with recessed water box. An actual visit to our showroom, warehouse, and assembly facility does more than even pictures. After all this is the "Show Me" state.